Hosting your WordPress website with a reliable web host is no less than a blessing in today's time. They are the ones you can look forward to anytime you need help with your website. It doesn't matter whether your site is getting high traffic, running slow, or simply crashed, they have a solution for every single problem you run into.
But do you know what are the best web hosts around? What do they offer in terms of speed, security, and backups? In this blog, we'll gain a deeper insight into three popular hosting companies that provide really great service.
But I'll come to that part after a while, before that I want to share something about a top-rated web design Los Angeles company – SFWP Experts. A trusted name in the IT and marketing industry, this is the firm you can reach out to suffice design, development, advertising, promotion, and other needs of your website. If any of them doesn't fit your needs, you can also leverage them for SEO, PPC, and online marketing of your content and products.
With that on halt, let's turn towards the awaited topic in this article – three best-managed WordPress web hosts you can choose for your website.
3 Best Managed Hosting Services You Can Choose From
1. Kinsta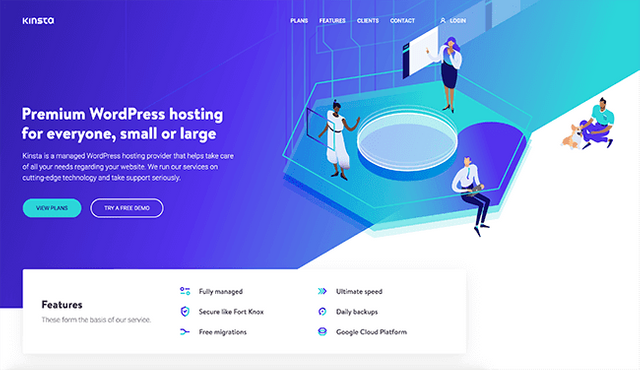 Kinsta is among a bunch of big names in the hosting industry having the whole infrastructure supported by cloud servers of Google. On the service front, it is power-packed with a lot of features including simple site staging, intuitive MyKinsta dashboard, and a handful of developer-centric tools like Git, WP-CLI, and more. That's not everything, it supports WordPress multisite too making it a primary choice for an average website administrator.
Let's look at some of the service areas it mainly focuses on:
Speed – To keep your website running at a faster pace, Kinsta has deployed more than 20 data centers around the world with the help of Google Cloud Platform.
Security – In order to keep their clients free from any kind of threat, they use the latest technologies for server maintenance, ensure consistent software updates and issue a free SSL certificate to websites that are powered by Let's Encrypt.
Backups – Kinsta backs up your site every day and is stored by them for 14 long days. What's even more interesting is that they offer automatic site recovery with a one-click option in case you want to get back the previous version of your website.
Pricing – While Kinsta offers a wide range of plans for its users, you can enjoy their services at a starting price of $30 per month for just one WordPress website.
This clearly shows using Kinsta for your WordPress website hosting is beneficial and getting all plans backed by a 30-day money-back guarantee is the icing on the cake.
Ok, now that you know the pros of hosting your site with Kinsta I want to ask – are you considering changing your hosting partner? Do you want to know if your bottom line will be improved post this action? Get on a < href="https://www.sfwpexperts.com/wordpress-developer-san-francisco/">call with the WordPress developer experts team at our Los Angeles web design company and ask them to review your site. Upon figuring out the potential areas for improvement we will recommend whether or not your site performance will boost by changing your web host.
2. Servebolt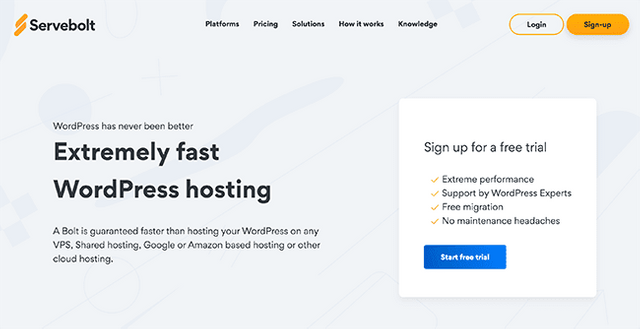 Servebolt, a tried and true hosting services provider that hosts websites of different platforms – WordPress is one of them. Beyond supporting WordPress multisite, it also offers numerous versions of your website for different stages like development, production, and staging. Plus, they offer a slew of features for web developers such as Git, SSH, and a lot more.
Now let's see how Servebolt performs in the service area:
Speed – Servebolt keeps up the speed of its hosting websites by deploying one of the most sophisticated server setups in the industry. It uses an in-house Linux distribution system, Nginx, HTTP/2, and its separate version of PHP.
Security – As far as the security matter is concerned, Servebolt protects its servers by AppArmor that's well known for implementing various security measures on the server level. Plus, it keeps track of its server maintenance and also fills the security holes if something suspicious is found. They also track your WordPress website to let you know if your site is illegally taken over by hackers. Apart from that, you get a free SSL certificate from Let's Encrypt to assure your visitors that the details they submit on your site are safe with you.
Backups – Like Kinsta, backups at Servebolt are taken once in a day but stored for up to 30 days. However, if you need to restore your site at any point in time, you will have to contact their customer service team and then further actions will be taken.
Pricing – To use Servebolts' service you will have to subscribe to their plan starting at $69 per month for one website. However, there is another way as well to get started for free but remember your site will be hosted offline and on a temporary domain.
So, how is this Servebolt? Did you like their offerings? If not, why? Is it too expensive or lacking in something? Let me tell you we can provide you the expected hosting options, no matter even if you are chasing down a cheap and best managed host. All you have to do is tell experts at our Los Angeles web design company how much traffic you are expecting on your site and what is your required SSD storage.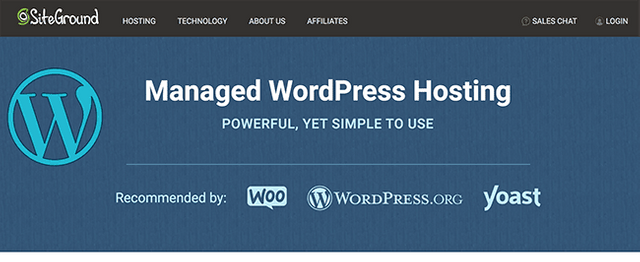 Just like Servebolt, SiteGround also hosts websites of varied platforms and offers a variety of server types and hosting plans. Not to mention, this also provides many developer-friendly features like Git, WP-CLI, and white labelling. Aside from that, it has leg up on the competition for supporting WordPress multisite including the email hosting.
Below we'll see its performance in different service fields:
Speed– While its servers are powered by Google Cloud Platform, it's guaranteed that your website is going to have fast load time.
Security – Since WordPress now offers automatic security updates, the SiteGround goes one step further and updates your plugins as well in addition to the WordPress core. Plus, you get a free SSL certificate provided by Let's Encrypt.
Backups – They backup your site per day and keep it stored for up to 30 days. If that's not all, you can create manual backups as well if needed.
Pricing – Having a different pricing pattern from other web hosts around, SiteGround's plans start from $47.40 for the first year and then it goes all the way up to $143.40/year from the next year.
Is your concern for your website security growing with the expansion of your online business? There are a number of solutions available with us and all it takes to leverage them is a simple conversation with our security experts. Being a prominent web design company in Los Angeles, we promise you will get an excellent customer experience here and willingly opt us for your service post the first collaboration.
Now Just Go And Pick Your Choice
Up until now you have seen top managed WordPress web hosts at your disposal. Though all of them vary in some areas they also have similarities in the rest. Sometimes this may confuse you so we recommend you to compare each of the hosting options based on the prices, features, and quality of service they offer before choosing one for your website. If you do this right, your site and your pocket both will be in good state.
Do you have any questions about Managed WordPress Hosting? Shoot it at us via your preferred communication method and then we will share our knowledge with you. With our innovative WordPress website design company, rest assured your WordPress website will be taken care of from various angles, be it security, navigation, design, traffic, conversions, and all that you can think of. SFWP Experts offer a wide range of services to brands across the globe that includes but not limited to WordPres web design and development, homepage design and development, custom software and plugin development, online advertising and promotion, and SEO and internet marketing.